Guanellian Charism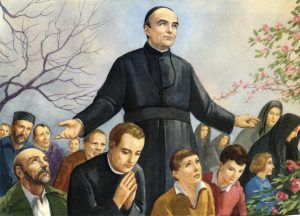 Charism
Don Luigi Guanella was given by the Holy Spirit a filial and merciful heart, capable of experiencing God as "Abba Father", who, rich in goodness and in providence wants to make of all men one single family. To him were opened the riches of the heart of Christ, thus to experience him as the everything of his life: brother, friend and redeemer.
Spirituality
Religious congregations are distinguished by their own specific spirit and charism.  The Guanellian spirit and charism can be characterized as a living family spirit. The priests and brothers are, therefore, to acquire a profound spirit of union with God in order to nourish a genuine spirit of sacrifice, self-giving and dedication. These characteristics are the basic points on which the Guanellians live their own vocation. 
To achieve this goal, the Servants of Charity have to grow in prayer and nourish a strong bond of fraternal love among themselves. Knowing their own abilities as well as their own deficiencies, they support each other for a better and more effective result in caring for their needy brothers and sisters. 
To be a Guanellian means to carry the cross day after day with a spirit of self-renunciation. Religious life is very demanding and not an easy one. Strengthened by spiritual motivation the Servants of Charity are working joyfully knowing that everything they do, for the least of the brothers, they are doing for the Lord.
Vision
Our very title, Servants of Charity, reminds us that Charity is the reason why the Lord gathers us together, consecrates us and sends us to the poor. Through a lifetime commitment to Christ and His Church, we are called to celebrate God's merciful love, which touches, heals and embraces everyone.  United in a community of Brothers and Priests, we strive to make visible the Lord's mercy, by becoming instruments of His Providence among the most fragile and neglected of our brothers and sisters who, like the Paralytic in the Gospel, cry out, "Lord, I have no one!"